How YOU doin'?
The gentle lilt of the melodic Long Island accent as it descends upon San Jose can only mean the New York Islanders are in town. Yes, I realize most of them are Canadian, but you can only ride the "wanna lift in my new Toyota Cel-EEE-ca" and threadbare "uh-boot" Canadian accent references so far.
Besides, most of our San Jose Sharks talk that way too, so it's much more fun to just imagine the New York Islanders as a bunch of slicked up playas who live in Port Washington, are ticked off Jersey stole their look, spray tan to a magnificent orange sheen and revere "The Situation" as a latter-day Mahatma Gandhi.
For those of you who quibble that New Jersey isn't Long Island…trust me gang, there's no difference.
Here's who we're playing this evening: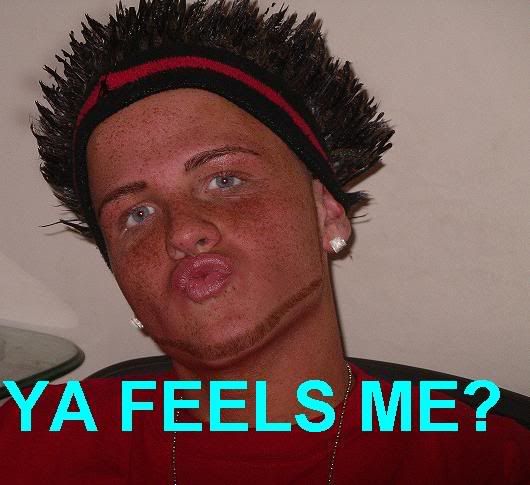 Yes, I will demonize an entire region of our country because their hockey team happens to be playing ours tonight. I will say things like John Tavares may have cut today's morning skate short so he could find a tanning salon. I can neither confirm nor deny that, but thought you should know.
Imagine Ryane Clowe in a tanning salon? Exactly. Pickles on the other hand?…ok, no comment–he may have have bronzed up a little before the last Celine Dion concert.
I will say that Islanders' winger Blake Comeau couldn't hit water if he fell out of a boat these days, and that the guy goes wide-right more than Martin Gramatica used to.
Looking forward to another 5-6 air-mailed shots tonight Blake, try not to break our glass–it's annoying and holds up the game.
Yes, my tone is a little salty, but I'm sick of losing and sick of not seizing upon our collective talents to win some bloody hockey games! Besides, a little hatred and vitriol might assist our boys in ending this three game skid.
Another plus will be having Joe Thornton back from his Mickey Mouse suspension.
After getting reprimanded for being big, Jumbo is back with a squad tonight who have sorely missed his steady leadership. Thornton has averaged better than a point-per-game against the Islanders, and having him back in the lineup should help the Sharks get back to the unrelenting, unyielding and professional type of hockey that we're used to.
"We're waiting for him", said coach Todd McLellan, "He's our leader and we're ready for him to be back." (As relayed by David Pollock of Working the Corners)
No kidding Coach. Another plus will be that our opponent tonight, the New York Islanders, are in utter disarray and adrift in the midst of a 9 game losing streak. I can't even imagine the "pitchforks and torches" scene if the Sharks threw up a record like that. Good news is we don't have to imagine that, but we do need to start playing more cohesively, connecting on a couple of darn breakout passes and chasing these guys out of town to avoid resetting expectations.
Those reset expectations would be that we are just a playoff team. We are not! We are better than the team that's gone 1 for their last 19 on the power play. We are the reigning bullies in the Pacific Division, who are next to impossible to beat at the ear-splitting Shark Tank. We have the loudest building, the best fans and raise the roof every night…
…and it's time for the San Jose Sharks to join the party…ya feels me?
—–
Follow BladesofTeal.com on Twitter @bladesofteal
Please visit our NHL Main Page: Too Many Men On The Site.
Tags: Blake Comeau HP Pavilion Joe Thornton John Tavares Mahatma Gandi New York Islanders NHL San Jose Sharks Todd Mclellan