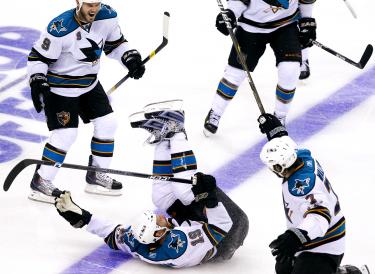 The back slapping (and sliding) down in Los Angeles was fun while it lasted, especially considering which Shark wound up striking the perfect image of pure elation, and an image that will surely stay with all San Jose Sharks fans who witnessed it for a while.
Joe Thornton has caught more than his fair share of heat over his career for "disappearing" during the playoffs. It started in Boston and the label followed him here. He had been lambasted over the years for not imposing his world class talent consistently enough on opponents, for not carrying the dominance displayed in a regular season into the Stanley Cup Playoffs, and most harshly, for not having the personal leadership material requisite to lead a team to a Stanley Cup.
So, with all that in mind, it must have been one of the better feelings of vindication for Jumbo Monday night, and I hope he enjoyed himself as much as we did…and I hope he now needs to find that feeling again like an addict chasing the dragon.
Speaking of dragons, tonight the Sharks welcome the Detroit Red Wings into town for Game 1 of the Western Conference Semifinals down at the Tank.
Yes, hello old friend.
For the Sharks to compete with this perennial powerhouse they will need to have everything clicking, including that same possessed Jumbo that was flying around the rink last Monday night against the Los Angeles Kings.
Everybody remembers the "statement fight" Joe had with Ryan Getzlaf about two seconds into Game 6 of the Western Conference Quarterfinals a couple of years ago. At the time, he was trying to energize his President's Trophy winning Sharks who found themselves on the verge of elimination against the #8 seed Anaheim Ducks. Though a spirited bout, and one that set the Tied House into bedlam that night, it would be one that eventually would go for naught.
Joe seemed to be trying to stoke his team's fires that night in Anaheim by putting himself out there as the gladiator, with the selfless thinking that once they were going he could focus on getting himself fired up. Thing is, what we found out last year during his amazing playoff series against the same Detroit team they will face tonight, is that the team responds more to watching their Captain and leader command the ice as its' best player.
That's what needs to happen tonight.
Last year, Jumbo answered the critics and epitomized the follow me, do as I do attitude when he went off on the Detroit Red Wings, registering eight points and leading them to a decisive 4-1 series victory. If the Sharks are going to have a chance against a very squared away Detroit team, that leader will need to impose his will just like he did Monday night.
Nope, the critics are still after him and probably won't go away completely until he is hoisting the Stanley Cup…and blowing a few kisses their direction.
—–
Follow Blades of Teal on Facebook
Follow Blades of Teal on Twitter @bladesofteal
Please visit our NHL Main Page: Too Many Men On The Site.
Tags: Detroit Red Wings Joe Thornton San Jose Sharks Stanley Cup