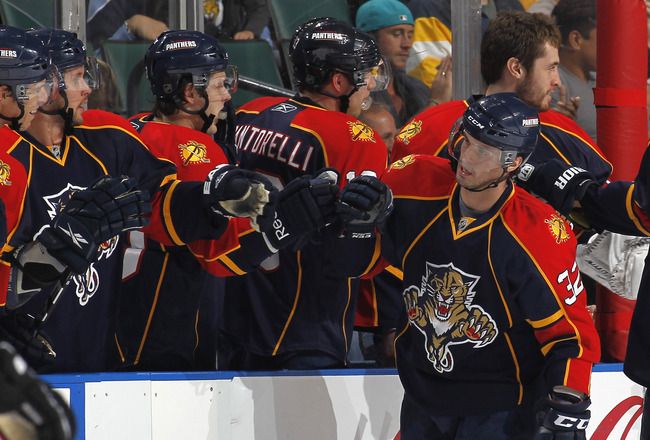 The new-look Florida Panthers are taking the spotlight today in FanSided's Around the NHL in 30 Days. Please check out The Rat Trick blog for the full in-depth preview because there are just too many changes to that club to list here! What changes, you ask? Let's go through a quick checklist: (1) Coaching change? [check!]; (2) New impact players? [check!]; (3) New Goalie? [check!]; (4) Parting ways with some old favorites? [check!]; (5) New optimism? [check!].
Let's get just a taste of lead writer (and FanSided's NHL guru) Frank Rekas has to say about his Panthers:
A complete house cleaning that began at the trade deadline in March, and continued into the off season, theFlorida Panthers and general manager Dale Tallon are following through on their promise of change. Change the attitude, change the culture, change the direction, and change the expectations of this franchise.
Now we'll take a look at how the Sharks made out in their lone matchup with the Panthers last year:
1 Game: Panthers won 3-2
That's a shock! You'd think that the Sharks would have easily won this meeting… but like I have said before, the NHL is so great because any team can win on any night.
The writers at The Rat Trick blog are listening to their homer hearts, and are hoping against all hope that the Panthers sneak into the playoffs this year. That's pretty optimistic, but then again stranger things have happened in the NHL. Here's hoping that the Panthers rough-up enough Eastern teams so that the Sharks can take advantage of the East in the Stanley Cup Finals!
Next up in FanSided's Around the NHL in 30 Days are the LA Kings.
Follow Blades of Teal on Twitter @bladesofteal21 and @bladesofteal
and Facebook – Blades of Teal
Tags: 2011-12 NHL Season Around The NHL In 30 Days Fansided Florida Panthers Joe Thornton Jose Theodore San Jose Sharks Season Preview