FanSided's Around the NHL in 30 Days stops at the Big Apple to check in with the New York Rangers. The great writers at the Blue Line Station are excited about the upcoming NHL season. What's not to be excited about? The Rangers have the awesome goaltending skills of Henrik Lundqvist, a solid D-Man in Dan Girardi, a premier sniper in Marian Gaborik, and superstar center Brad Richards.
The Rangers are going to be a force in the East this year. But the one question I have about the Rangers is Sean Avery (check out his photo!). When he sticks to actually playing hockey he is a good player that throws his competition off of their game. But when he incorporates the extra silliness into his game that he is known for both on and off the ice, he could become a liability for the Rangers. Ever wonder what Sean Avery is thinking sometimes when he does or says the wrong stuff? It reminds me of the Family Guy clip that pokes fun at actor Gary Busey, who also has made some questionable comments/choices in his career:
The Sharks and Rangers met once last year. Let's see how the Sharks did:
In the lone regular season meeting last year the Rangers beat the Sharks in a shootout, 3-2. Here's hoping that the Rangers give the Bruins, Flyers, Penguins, and Capitals a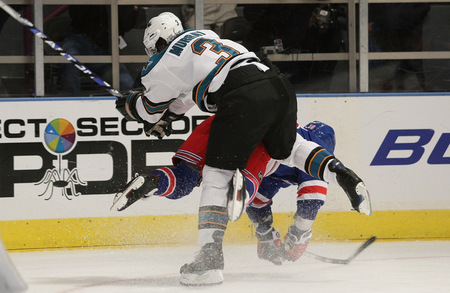 hard time this year so that they will tired come playoff time. Then the Sharks can take advantage in the Stanley Cup Final!
The Ottawa Senators are next up in FanSided's Around the NHL in 30 Days.
Follow Blades of Teal on Twitter @bladesofteal21 and @bladesofteal
and Facebook – Blades of Teal
Tags: 2011-12 NHL Season Around The NHL In 30 Days Brad Richards Fansided Joe Thornton New York Rangers San Jose Sharks Sean Avery