San Jose Sharks Offseason: Where Do We Go From Here?
The San Jose Sharks have officially put the band back together. By resigning their final free agent Chris Tierney, the Sharks will go into next season with almost the same team they took to the playoffs.
The San Jose Sharks have made every move they wanted to make this offseason…Well…Minus that one guy who ended up signing with Toronto.  They've brought back Joe Thornton, on a one year, 5 Million dollar deal, locked up Tomas Hertl and Logan Couture long term, and brought back their depth guys in Dylan Demelo and Chris Tierney.
Barring any significant trade, the San Jose Sharks will enter the 2018-2019 season will nearly the same team which netted them 100 points, and third place in the Pacific Division.
This is also the same team which earned them another yet another second-round exit to the Vegas Golden Knights. Something San Jose Sharks fans should be used to by now.
San Jose is probably done making moves this offseason, barring something unforeseen. Fear not, however, this team, as constructed, can contend for a Stanley Cup if they stay healthy. It's just logic right? At SOME point, the San Jose Sharks are going to win a cup. This team right now is as good as almost any in the Western Conference, and anything can happen come playoff time.
With all that being said, there is a piece missing. A difference maker, who can put this team over the top. GM Doug Wilson, has been very smart this offseason by not overpaying for second-tier free agents.
He went hard after John Tavares, and when he didn't land him, Wilson focused on re-upping his players, while saving about 7 million in caproom for a future deal. Smart. But, the San Jose Sharks can ill afford to go into the playoffs next season without another scorer. At this point, with the championship window being leveraged open with duct tape and plywood, they're going to have to make a move at the deadline or before.
Easier said than done for the San Jose Sharks, however. They don't have a first-round pick going into next years draft, although, they helped themselves by acquiring Florida's second-round pick in the Mike Hoffman trade (Mikey we hardly knew ye').
The Sharks prospect pipeline is also pretty thin. Dylan Gambrell and Rudolphs Balcers will see some run in the NHL this season but are bottom six players at best. Josh Norris, who remains unsigned, will be entering his second year at the University of Michigan, and 2018 first round pick Ryan Merkley will need another year of seasoning in the OHL before making his professional debut.
The Sharks do have other prospects. Names like Adam True and Jayden Halbgewachs come to mind. And while Halbgewachs was the WHL's leading scorer, he's 20, which is old for junior hockey. He'll see some time with the San Jose Barracuda this season.
The players the Sharks are going to target, the Jeff Skinner's, Max Pacioretty's of the world you'd think are going to cost more than a second round pick and a projected bottom six prospect. However, Doug Wilson has pulled off miracles before: See Evander Kane and Joe Thornton.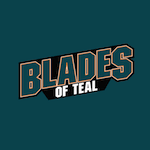 Want your voice heard? Join the Blades Of Teal team!
Write for us!
In short. The San Jose Sharks, for right now, are done this offseason. I can't see them making any more significant moves until the season starts. Doug Wilson and Peter DeBoer are going to want to look at what they have, and they will make adjustments during the year if they feel the need.