San Jose Sharks Scratch Suomela For Tonights Game
In a surprise move, San Jose Sharks new Finnish Centerman Annti Suomela will be scratched for tonight's game against the Philadelphia Flyers.
Peter DeBoer, in a very Peter DeBoer way, has scratched Annti Suomela for tonight's San Jose Sharks game against the Flyers.
This move comes as a bit of a shock, at first, but this is the Peter DeBoer modus operandi. He'll bench younger European players for a game or two if they haven't been playing well. He did it with Timo Meier, he did it with Donskoi for a few games as well. We all know about Tim Heed last season.
#SJSharks DeBoer says that Antti Suomela will be a healthy scratch tonight

— Paul Gackle (@GackleReport) November 3, 2018
He'll scratch really any younger player. DeBoer has scratched LaBanc, and Ryan multiple times last season. This is just what he does. DeBoer would rather go with his vets early than have his younger players play through a slump. Like it or not.
And you know what, Sharks Twitter, please look away for a second…Its worked. Yes, its cost the San Jose Sharks a couple of regular season games, but overall it hasn't hindered guys development at all, which in the long run is far more important than a game in November.
I understand the vitriol from the fan base. You want to see these younger players get ice time so they can develop at an NHL pace. But at the same time, why hurt a guys confidence? A scratch isn't like a benching in football. I have no problem with giving guys a game or two in the press-box to both recover and learn. No big deal.
Now. If it goes on. If Suomela is consistently being scratched, then that's a problem, and its on DeBoer. We've all seen Suomela perform well, especially on the line with Donskoi. He's the best center they have on the bottom six and he needs to be on the ice for the San Jose Sharks.
DeBoer has made some mistakes this season with his personnel. I'll admit that. Its been a mistake to split up Vlasic and Karlsson. And he broke up the Meier-Couture-Hertl line which has had success this season.
I can understand breaking up the Couture line. DeBoer is trying to spread the talent, especially with Thornton returning to the line up. He needs to try to get some playmakers next to Thornton to get him going. But the unforgivable thing to me is Vlasic-Karlsson. Why split that up? That pairing was having so much success early, it doesn't make sense to split those guys up.
Fact is, its still very early. This team needs to figure some things out, and they are doing so. We've seen the success they can have with the right personnel on the ice, but why not see if they can have success with other combo's and pairings, and try to get guys hot offensively? PDB can always go back to what's worked.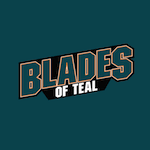 Want your voice heard? Join the Blades Of Teal team!
Write for us!
Its November 3rd guys. Chill. If its happening in March, then its freak out time.