San Jose Sharks Legend Joe Thornton Cements Himself In NHL History
The greatest San Jose Sharks player of all time has just added another chapter to his historic NHL Journey. The one we all lovingly call Jumbo has become one of seven players in NHL history to score 400 goals, have 1,000 assists, and play in 1,500 games.
San Jose Sharks Legend Joe Thornton, has just further etched his name into the hockey history books scoring his 400th goal of his career at home against the Nashville Predators. And a game winner at that.
And that is what Thornton is going to be talking about, that the San Jose Sharks won the game. The accolades are nice, but as long as the team wins, that's the important thing to him.
400th goal.

Game-winner.

Legend. pic.twitter.com/0DrOa9OKN2

— San Jose Sharks (@SanJoseSharks) November 14, 2018

That's who Joe Thornton is. Since the San Jose Sharks acquired him in 2005, he's been the ultimate team guy. Beloved throughout his career here in the Bay Area by both teammates, coaches and fans.
Thornton joins the likes of Ray Bourque, Ron Francis, Gordie Howe, Jaromir Jagr, Mark Messier and Steve Yzerman with 400 goals, 1,500 games and 1,000 assists. I'd argue that's some pretty elite company.
CONGRATULATIONS TO JUMBO: Joe Thornton just became the 7th player in #NHL history to play 1500 games, score 400 goals, and record 1000 assists. Goal #400 put the #SJSharks in front, 5-4 in the third period.

— Dan Rusanowsky (@DanRusanowsky) November 14, 2018
Jumbo is pretty much either number one or number two in pretty much every San Jose Sharks franchise record, usually behind his former line-mate Patrick Marleau, the other guy considered the greatest in franchise history. But the reason we love him isn't so much about the numbers.
We in the Bay Area have been very blessed over the years with some great, great players. Guys like Steph Curry and Klay Thompson and Baron Davis. Buster Posey and Madison Bumgarner. Joe Montana and Steve Young and Jerry Rice. Guys like Will Clark and Barry Bonds and Matt Williams. And the late Willie McCovey.
Make no mistake, "Jumbo" Joe Thornton is in that category. He is and always will be a Bay Area legend.
You can mention all the records, all the championships, and all the accolades with the names mentioned above, but what they all have in common is that they're remembered for the way the played the game. Not just the fact that they couldn't pull us away from our televisions, or get us out of our seats. That's a given. But all these men listed above have given us much more than just records. They've given us joy.
Joe Thornton has given us some of the greatest joys of our lifetimes. His love and passion for this game and for the San Jose Sharks franchise is unmatched. You can't help but smile when you see him on TV or at the 'Tank.
We've been so lucky to add #19 to the mythical rafters in Bay Area sports history. And while his career isn't over yet, its coming to an end. And we'll miss him when he's gone.
400 goals and 1000 assists and 1500 games for Joe Thornton. We can't explain him in a tweet. But what a privilege it has been to watch him over the years.

— Blades of Teal (@BladesofTeal) November 14, 2018
While Jumbo hasn't yet bestowed himself, and the San Jose Sharks franchise and fan base with the ultimate prize (yet!), he'll always be named with the champions above.
The San Jose Sharks are in position this year to finally do it. To finally grab that ultimate prize. What a sight it would be to see him hoist Lord Stanley's cup in his last year, a la his former teammate Ray Bourque.
Here's hoping he has just enough left in the tank (pun intended) to do it.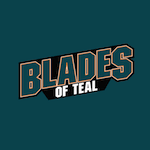 Want your voice heard? Join theBlades Of Teal team!
Write for us!
So, here's to you Jumbo. Thank you for everything.