Should the San Jose Sharks be Worried About Erik Karlsson?
To begin a four-game Western Canada road trip, the San Jose Sharks will be without defenseman Erik Karlsson as he continues to deal with an undisclosed lower body injury.
Erik Karlsson and the San Jose Sharks have been fortunate dealing with the injury bug throughout their 2018-2019 campaign.
A few minor stints on the injured reserve for Joe Thornton, Justin Braun and Marc-Edouard Vlasic have shown no signs of serious setbacks over the course of the season.
However, for the most recent injured Shark, Erik Karlsson finds himself missing his fourth straight game, and hasn't seen any action since a 6-3 loss to the Arizona Coyotes on January 16th.
According to Paul Gackle of the Mercury News, Erik Karlsson won't join the team up North as the Sharks square off against the Winnipeg Jets in what is considered to be a potential Western Conference Final preview.
DeBoer said he "expects" Erik Karlsson to join #SJSharks at some point during their 4-game trek through Eastern Canada

— Paul Gackle (@GackleReport) February 5, 2019
However, on the flip side, Karlsson is expected to regroup with San Jose "at some point" during the road trip, Peter DeBoer said before Tuesday's matchup with the Jets at Bell MTS Place.
It's no question Karlsson is a vital piece to the San Jose Sharks core this season after acquiring the two-time Norris Trophy winner in the summer blockbuster trade.
Karlsson stands sixth on the team in scoring with 43 points, including 40 helpers, which trails the Sharks' assist leader Brent Burns by seven.
More importantly, the dynamic duo of Burns and Karlsson serve as lethal weapons on the Sharks blueline. As two of top-five defensemen in the National Hockey League, No. 65 and No. 88 provide precise passing and wicked one-timers from the point at even-strength and on the man-advantage.
Aside from his scoring totals, Karlsson's crucial element is his defensive measures and his ability to play extensive shifts every night he takes the ice. The 28-year-old defenseman currently paces all Sharks skaters with an average ice of approximately 25 minutes and leads the Sharks in CF% (59.5%) and FF% (59%).
While it is smart by the San Jose Sharks front office and coaching staff to evaluate and treat Karlsson with as much caution as possible with the team in a prime playoff position, there is some worry with how long he stays out of the lineup and why has it taken this long to recover.
As hosts for the 2019 NHL All-Star Weekend at SAP Center in Jose, Karlsson accompanied Joe Pavelski and Burns with impressive performances and celebrations over the festivities.
However, it is worth noting that Karlsson was not clearly moving 100% during the All-Star Game, despite scoring two simple goals. Furthermore, he struggled with the Premier Passer challenge during the All-Star Skills Competition, posting a surprising time of 1 minute and 58 seconds, which ranked second-to-last ahead of Colorado Avalanche's Mikko Rantanen.
While the players are suppose to take NHL All-Star weekends lightly, I believe Karlsson's performance on the ice was overshadowed by his love and attraction as an enjoyable host.
Now, Erik Karlsson has continued to take part of Sharks' practices since then. Although, the two-time Norris Trophy winner has missed a couple practices and left some early as precaution to the injury.
Nevertheless, it just feels odd that he goes from "day-to-day" to not traveling with the team at all for an important stretch of games to begin February.
It's also important to observe that Karlsson's recent setback has nothing to do with his prior ankle surgery, according to Kevin Kurz of The Athletic.
One important note on Erik Karlsson — his current injury is not related to his previous ankle surgery, according to DeBoer

— Kevin Kurz (@KKurzNHL) February 4, 2019
While Karlsson's absence looms large, the Sharks have dealt with adversity before and can continue to hold down second place in the Pacific Division with the team's bolstered offensive depth and defensive durability, thanks to the likes of rookies Radim Simek and Tim Heed.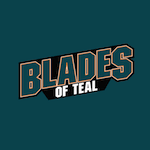 Want your voice heard? Join the Blades Of Teal team!
Write for us!
Up next on the road docket, the Sharks tackle Calgary, Vancouver and Edmonton – three tough divisional opponents with hopes of making the playoffs after long absences. With clear danger ahead, let's hope Erik Karlsson returns to tip-top shape and can join the San Jose Sharks as soon as he shows positive signs.
All the statistics in this article were provided by naturalstattrick.com unless stated otherwise.