Do the San Jose Sharks Have a Goaltending Problem?
With this year's unsteady play from Martin Jones and Aaron Dell, does San Jose Sharks general manager Douglas Wilson need to make a move or is there a rising Barracuda star looking to make a name for himself?
As the NHL trade deadline quickly approaches, the San Jose Sharks see no desire in making a move for a goalie at the moment.
There has been no real reason to panic just yet. Head coach Peter DeBoer and the Sharks are steering the ship in the right direction.
They're riding a four-game winning streak amidst a daunting Western Canadian road trip all without the team's arguably most valuable player in Erik Karlsson.
Team Teal has comfortably locked down the second spot in the Pacific Division with 71 points. This places them just two points behind the Flames and five points ahead of the Vegas Golden Knights.
With 32 wins, the fourth-highest total in the Western Conference, the San Jose Sharks have relied heavily on their offensive outbursts from the forward depths and their defensive durability and smart play-making ability on the blue line.
The team is clicking on all cylinders but is hindered by some ridiculously terrible goal keeping. The San Jose Sharks hold a team save percentage of .892, which ranks 30th in the National Hockey League only above the Florida Panthers.
While the San Jose Sharks seeks to add a veteran piece prior to the February 25 deadline, it's clear that the Sharks' biggest room for improvement is their woes in-goal. That eye-opening statistic alone shows that maybe it's time for the Sharks to consider their options for tending the twine.
Before delving into possible candidates on the market and in the farm system, a proper evaluation of Martin Jones and Aaron Dell must be made.
As the Sharks main man in goal, Jones has been a trusty staple to the organization over the last four years. His charming smile and positive energy make him popular throughout the locker room. Over the course of his tenure as a San Jose Sharks he's become a fan-favorite to the Team Teal faithful.
During his tenure dawning teal, Jones boasts a .912 save percentage and a 2.49 save percentage in 230 games, including carrying a pivotal role in the Sharks' 2016 Stanley Cup Final run.
But this season, the 29-year-old's goaltending numbers have taken an unforeseen turn, holding a career-low .899 save percentage at even strength; this is the lowest percentage recorded among qualifying goalies.
While he flashes the leather and makes sporadic saves seem simple, it's the straightforward chances where Jones seems to lack confidence, especially dealing with preventing big rebounds or playing the puck behind his net with fluid motion.
Jones is usually who will be playing between the pipes on most nights, but Aaron Dell has also served effectively in the backup spot. He's put together quality starts for the San Jose Sharks in back-to-back games.
In 17 games this season, Dell maintains a 3.11 GAA and a .891 save percentage, but that's such a short sample size. When looking at his career stats over the last three years, Dell has posted a much-improved 2.56 GAA and a .913 save percentage in 66 games.
While Dell seems to struggle with those back-to-back nightly tasks this year, the 29-year-old still has potential of becoming a starting goaltender in the not-so-far future. Whether that's with the San Jose Sharks or a trade presents its way for a starting job opportunity, Dell will need to finish the second half strong, like Jones, to make the most of this season's stretch to the Stanley Cup Playoffs.
After assessing the current goaltending options, it is reasonable to scan the market and look at potential veteran candidates for the Sharks to take a bite at. At the cream of the crop, Columbus Blue Jacket Sergei Bobrovsky and Minnesota Wild Devan Dubnyk find themselves on teams that, in my mind, won't make deep playoff runs and seek to gain picks and assets to look to future prosperity.
The San Jose Sharks have a limited amount of picks go for the 2019 NHL Draft without any first or second round draft selections so far.
However, the Sharks have some promising players and prospects that could be worth dealing to get a high-caliber goaltender with a pending UFA status, such as Bobrovsky or Colorado's Semyon Varlamov. A few names to throw into potential trade scenarios could be the likes of Kevin Labanc, Justin Braun, Tim Heed, or even Joonas Donskoi, which would be pushing it to really make a run this year.
On the other side, the Sharks also have some junior options as well with forward Ivan Chekhovich tearing it up in the QJMHL or defenseman Ryan Merkley, San Jose's 2018 first-round pick, turning heads in the OHL.
Nevertheless, the San Jose Sharks' front office has to ask the most important question when considering their market options: is it worth giving up high-quality players or prospects for essentially a one-year rental of a solid, experienced netminder?
Furthermore, teams looking to sell most likely seek high draft picks in the 2019 or 2020 NHL drafts to speed up any rebuilding processes, and San Jose is just not quite ready to give up those picks at this year's deadline.
A plausible goaltender the Sharks could swim closer around is Detroit's Jimmy Howard.
A life-long member of the Red Wings for over a dozen years, Howard holds a 2.51 GAA and a .915 save percentage. The two-time All-Star held down the fort for Detroit in seven consecutive postseasons from 2009-2016, posting a 2.58 GAA and a .918 save percentage in 48 playoff contests.
Although Howard's 2018 -2019 totals are slightly lower than his career numbers, the 34-year-old has maintained a 2.77 GAA and a .914 save percentage through 36 games, which is clearly higher than Jones and Dell this season.
At the cost of a player or two for Howard, the Sharks would certainly increase their chances at going deeper into the Stanley Cup Playoffs by adding not just a strong support to the goaltending front, but also bringing in another experienced leader to help boost the morale and positive performances of the young guys.
While that seems like the best case scenario, there is still one more idea to check off the list, and that's taking a look down at the farm system.
The San Jose Barracuda currently pace the Pacific Division with 58 points (26-10-2-4). While the main driving force has been Barracuda's offense, a critical component to the team's success has been Barracuda goaltender Josef Korenar.
Hailing from Pelhrimov, Czech Republic, Korenar owns a 2.28 GAA and a .920 save percentage along with 16 wins and three shutouts. All of these rank in the top ten of the AHL, per AHL.com.
As a top performer in the 2017-2018 World Junior Championships, Korenar possesses a winning pedigree and a determined mindset which helps him defend the goal each night. Although he has not seen any time at the NHL level, maybe it's time to give the 21-year-old a shot.
Korenar could potentially pan out into a similar fashion like the 2016 version of Pittsburgh's Matt Murray – a sight Sharks fans will not so fondly remember. If Korenar can prove that he's NHL ready, maybe the San Jose Sharks won't need to worry at the deadline. Perhaps they have found the solution right here in their very own backyard.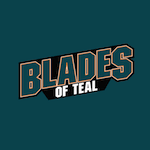 Want your voice heard? Join the Blades Of Teal team!
Write for us!
As the deadline and postseason draws nearer, Martin Jones and Aaron Dell have their work cut out. As No. 31 and No. 30 play in order to keep their jobs, Doug Wilson waits patiently for the right move pop up. The San Jose Sharks still have a few weeks until the trade deadline but there is no doubt that this team is looking to improve on this already impressive roster.
All the stats in this article were provided by Hockey-Reference.com unless stated otherwise.