Erik Karlsson Could Miss Entire Canadian Road Trip For San Jose Sharks
The San Jose Sharks will be without their all world blue-liner Erik Karlsson during their upcoming 4 game Canadian road trip. Is this precautionary or is there worse news ahead?
Erik Karlsson has not played (All Star Game excluded) since January 16th against the Arizona Coyotes. The San Jose Sharks didn't fare well at first losing 3 straight but rebounded with two sensational OT wins. All of these games have been hard fought affairs for Team Teal and it doesn't seem like it will get any easier anytime soon.
Mercury New's Paul Gackle reported via Twitter that Erik Karlsson will not take part in the San Jose Sharks upcoming 4 game Canadian skid.
Erik Karlsson won't be in for #SJSharks. He didn't make the trip to Winnipeg. Could rejoin team later on this 4-game swing through Western Canada

— Paul Gackle (@GackleReport) February 5, 2019
Yet again the San Jose Sharks will be without a pivotal defender for an extended period of time. They've been able to preform well without crucial pieces in their lineup so far this season; with Team Teal's organizational depth able to compensate for their injuries. But they can't count on boarder line NHL talent to lift you to your first Stanley Cup in franchise history.
In order to win they need skaters like EK65 and Marc-Edouard Vlasic on the ice every night during the playoffs. Recently MEV made his return and preformed well recording over 23 minutes of ice time, per naturalstattrick. He was buried inside the defensive zone for most of the game but suppressed most of the damage dealt by the Coyotes speedy counter attack.
The San Jose Sharks have performed relatively well without EK65, but miss his neutral zone prowess. His ability to break out pucks and enter them into the opponents zone is sorely missed. His absence has made players like Brent Burns elevate his play to even higher levels then previously recorded. He's clocking ridiculous amounts of ice time and putting up a lot of shots; it's doubtful that he will be slowing down anytime soon. But is a break for Burns something that might happen in the near future?
Marc-Edouard Vlasic and now Erik Karlsson have missed a decent chunk of time this season could this be a benefit for the San Jose Sharks? This is not to disparage the injuries that might be ailing these players, but perhaps the San Jose Sharks don't really feel the need to rush them back. If EK65's injury isn't as serious as they say and he returns after the four game road trip then perhaps we could see players like Joe Pavelski, Joe Thornton, or even Brent Burns take a break before the playoffs.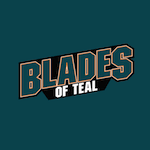 Want your voice heard? Join the Blades Of Teal team!
Write for us!
The Brent Burns scenario is highly unlikely considering he has an active iron man streak but resting players like this isn't that wild of an idea. Many NBA teams strategically sit players in order to converse their energy for deep playoff runs. So why not take that approach with a hockey team? If any team would consider this it would probably be the San Jose Sharks. Traditionally they have been ahead of curve when it comes to how they approach a players rest and recovery.
The reality of the situation is that the San Jose Sharks are going to be without their Swedish defender anchoring their blue line for their next 4 games. However Team Teal's depth has shown that it has the capacity to step up and keep the Sharks at a winning pace. We're all very hopeful that the injury bug that Erik Karlsson's caught isn't that serious. Perhaps another week of rest is all he'll need to get into a comfortable position for a deep playoff run.