San Jose Sharks Reveal Roster Heading into 2019 Rookie Showcase
The San Jose Sharks have recently announced who they will be sending to Anaheim to face-off in the rookie showcase that's set to take place September 7 – 10.
There is finally a light at the end of this tunnel known as the NHL off-season. Now after a long arduous few months or so without hockey the Rookie Showcase is about to begin which marks the official start of the 2019 – 2020 campaign for the San Jose Sharks.
The Sharks are one of six teams who will be attending. The other organizations include the LA Kings, Anaheim Ducks, Arizona Coyotes, Colorado Avalanche, and the Vegas Golden Knights.
This tournament holds a little more weight this year than ones prior considering the lack of depth on both the Barracuda and Sharks. Team Teal's front office, coaching staff, and scouting department will all be dialed in hoping to find a skater or two whose games can translate to the professional level. Here are the dates, opponents, and specific times pertaining to San Jose's time during Anaheim's 2019 Rookie Tournament (for more details click here).
---
*All times Pacific
Location:
Arizona Coyotes vs San Jose Sharks // Sept. 7th 3 p.m.

San Jose Sharks vs Anaheim Ducks // Sept. 8th 5 p.m.

Los Angeles Kings vs San Jose Sharks // Sept 10th 1 p.m.
---
Sharks fans will have plenty of names to track with skaters like Ivan Chekhovich, Sasha Chmelevski, Joachim Blichfeld, Ryan Merkley, Mario Ferraro, Artemi Kniazev and Noah Gregor making their way up the organizational ranks. Here's a full rundown of whom to expect at the event.
Forwards
Lean Bergmann (Iserlohn) / Joachim Blichfeld (Portland) / Ivan Chekhovich (Baie Comeau) / Sasha Chmelevski (Ottawa 67's) / Zachary Gallant (Peterborough) / Noah Gregor (Prince Albert) / Jake Gricius (Portland) / Dillon Hamaliuk (Seattle) / Artem Ivanyuzhenkov (Sioux Falls) / Joel Kellman (Brynas IF Gavle) / Ivan Kosorenkov (Worcester) / Vladislav Kotkov (Chicoutimi) / Trisan Langan (Moose Jaw) / Jacob McGrew (Spokane) / Marcus Vela (New Hampshire) / Jeffrey Viel (Barracuda) / Manuel Wiederer (Barracuda) / Danil Yurtaykin (Yaroslavl Lokomotiv)
---
Blueliners
Mitchell Brewer (Oshawa) / Mario Ferraro (Umass-Amherst) / Thomas Gregoire (Barracuda) / Artemi Kniazev (Chicoutimi) / Nikolai Knyzhov (St. Petersburg SKA) / Jake Lee (Seattle) / Ryan Merkley (Peterborough, Guelph) / Keaton Middleton (Barracuda) / Tony Sund (Sport Vaasa) / Hudson Wilson (Ottawa 67's)
---
Netminders
Zachary Emond (Rouyn-Noranda) / Zachary Sawchenko (Alberta) / Andrew Shortridge (Quinnipiac)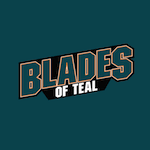 Want your voice heard? Join the Blades Of Teal team!
Write for us!
Team Teal's coaching staff needs all the time they can get to survey this crop of prospects. Which makes this Rookie Showcase and the few weeks of training camp all the more crucial. The Sharks have more questions than ever this upcoming season and are hoping to answer them with a few of these rookie skaters.
Despite what other publications might say about San Jose's organizational depth a lot of these skaters are coming off their impressive junior seasons and will have plenty of opportunities to succeed next year. The Sharks have signaled that they are going to rely on a few of these players to help keep them in contention for the Stanley Cup. Which is why this year's 2019 Rookie Showcase will be worth tuning to.